On August 18, I ran the Vinings Downhill 5k with Allison. Doc and her husband also signed up for the race and we met them (accidentally) in the port-a-potty line. (This wasn't quite like we had planned, but I hadn't been able to call her before the race yet, so it worked out nicely!) I actually had a PR on this race! Hooray! I keep improving my time each 5k I do, though I haven't gotten under 30 minutes YET. Oh don't you worry, I will!! :) This was a pretty fun race to do and there were so many people out since it's called "the fastest 5k in Atlanta" and is a Peachtree qualifier (like most races in Atl, I'm discovering).
Now I have never run straight down hill before and later in the day, my calves were killing me, but it was a good race. Apparently, they changed the course from last year (they said) and ended it up hill at a school over 3 or 4 speed bumps, but I was still able to sprint at the end. I finished with a time of 31:20.18 which is my best time for a 5k yet. I do want to break 30 minutes in my next 5k, but I haven't signed up for another race yet.
Welcome to Atlanta!
the morning sun was rising
doc, me, and allison ready to race
Y'all saw that I signed up for the Big Peach Sizzler 10k over Labor Day and I was quite impressed with this race! The course was relatively flat for Atlanta and it was fun since it ran around my 'hood. I actually ran this race by myself though my friend, Katie, was running a 10k in Cumming at the same time. I was a little nervous running by myself (I am always at least meeting someone at the race), but I met a very nice (and fast!) girl in line at the bathrooms before we started. I was enjoying the run when I heard a lady next to me on the left say that she was "going to take it easy since she had run 12 miles the previous day". I was super impressed, but just kept running. Maybe about a half mile later, I look to my right and there is the 12 mile lady! I ask her about her run the day before and she tells me she is training for an iron man at the end of the month and when I ask her what pace she is going to run, she says, "just to keep up with you". We chat for the next few miles and I tell her my roadblock is 3 miles. Once I'm over 3, I feel like I can keep going, but until then, it's a little harder (especially on a treadmill). She agrees and says she isn't going to walk until after mile 3. Well, mile 3 comes and goes and I think I ended up losing her around mile 4. I swear, mile 5 was tortuous and I was freaking out to myself, wondering how the heck am I going to finish 13 in November, but then I saw mile 6. Hallelujah! There was a photographer telling people to smile for the camera (seriously? I took the most awkward pictures here!!) and then I rounded the bend to see the finish line! I was able to sprint at the end for this race too and felt okay except the outer side of my right knee was starting to bother me. I finished this 10k in 1:07:13.55 and shaved off about 8 minutes from the Peachtree!! Here is hoping to shave off another 8 minutes on my next 10k!!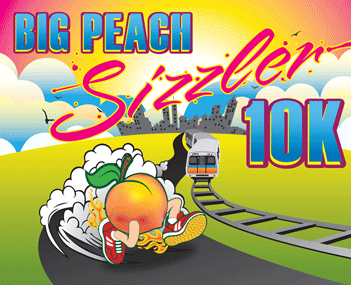 Such a cute logo and it's on bright orange shirt! Fabulous!!
Post race photo-I might need matching tops and shorts for racing (I'm a little wild with my colors!)
I will probably try to run both of these races again next year as they were both fun and seem to be staple runs in Atlanta. I haven't done that much running since the Sizzler and am really needing to amp up my runs for my half marathon training, but my right knee has been bothering me. I am thinking it's my IT band and that I might need to find out where I can buy a foam roller and some good stretching exercises for it so I can keep it healthy. Fellow runners, any thoughts?