Since my sweet pup woke me up this morning and I haven't yet forced myself to go for a run (yes, I've finally decided to force myself to exercise), I started browsing Anthropologie's website. I absolutely love all of their clothes, even though I wish I had more money available to spend in there. One of my friends just told me she is working part-time now for another store in the mall, and I cannot believe the percentage she gets off their clothes!! I told Patrick that I might seriously have to consider working part-time at a store just to reap those benefits! I just might look into it.
Anyways, back to the beautiful dresses I'm eyeing over at Anthro:
First off, I adore (!!!) this dress in blue though I love it in "red" too. But being an Auburn girl, how perfect is this for a game? I might just have to convince Patrick that this is the one if it fits!!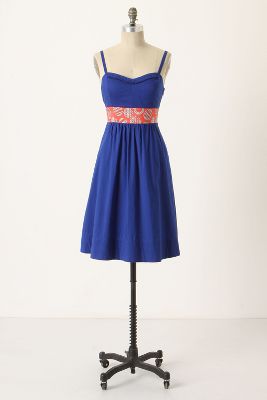 Next, I like this one in either the pink or the green. It seems like a good go-to dress for the summer.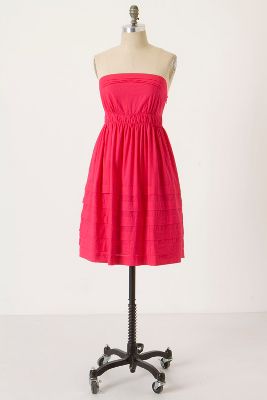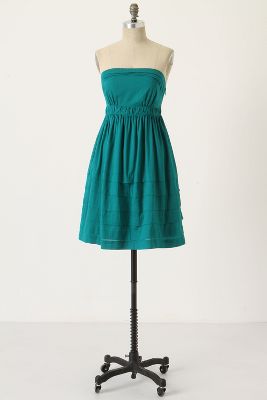 I think the detailing on this dress is beautiful, though I'm just not sure how the color would suit me being as I am so pale. But I still would like to try it on just for kicks.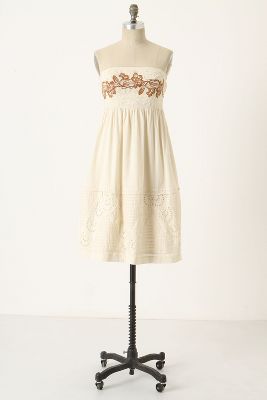 This dress appeals to my first degree in Marine Biology with the beautiful watercolor mural at the bottom.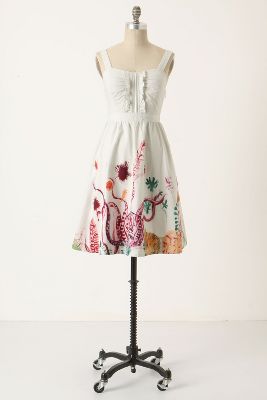 And last, but certainly not least, I really enjoy the look of this dress. I love the bottom and think the ruffles on the bodice are very cute! Might it work? I hope to try it!
Oh, how I just love Anthropologie!! I wonder if I run today, can I be rewarded for my efforts?